News Gundam the Origin: Clash at Loum's Video Previews Theme Song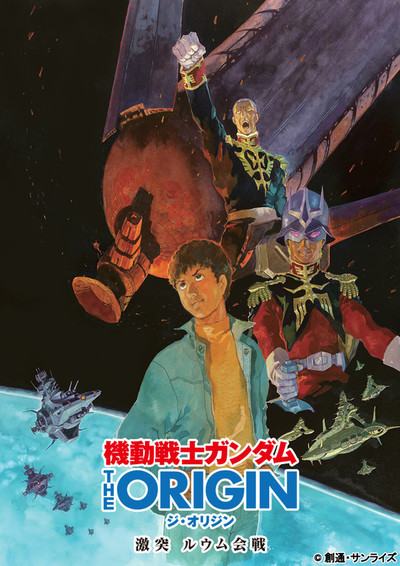 5th episode in theatrical series premieres in Japan on Saturday
Bandai began streaming a promotional video for Mobile Suit Gundam: The Origin V: Clash at Loum (Mobile Suit Gundam: The Origin V: Loum no Kaisen), the fifth episode of the Mobile Suit Gundam: The Origin anime, on Thursday. The video features the episode's theme song, "I CAN'T DO ANYTHING - Sora yo -" by Takayuki Hattori presents GUNDAM THE ORIGIN featuring AYA. (Note: The YouTube video in the link above is region-locked to Japan.)
The Gundam.info portal site previously streamed English-dubbed trailers, as well as the first 11 minutes of the episode in both the English dub and in Japanese with English subtitles.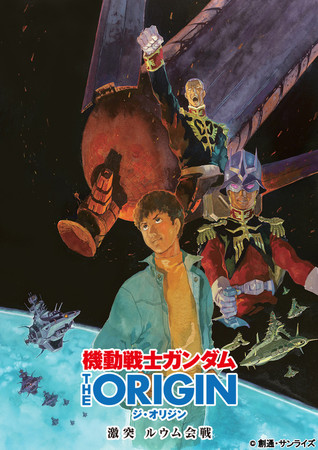 The episode, the first in the anime's "Loum Arc," will open in Japan on Saturday in 35 theaters — more than double the previous four episodes' 15 theaters. The episode's screenings will also be extended to four weeks, double the two-week screening run that each of the previous episodes had.
The "Loum Arc" will end with the sixth episode, titled "Rise of the Red Comet," which will debut on May 5, 2018.
The new arc will cover the Battle of Loum, the pivotal conflict in the One Year War's early days before most of the events depicted in the first Mobile Suit Gundam anime. The battle came after the Operation British space colony drop and other devastating events that wiped out nearly a third of the human population. Char Aznable, the nemesis of the first Gundam anime's protagonist Amuro Ray, became famous as the legendary ace "Red Comet" during this war.
In addition to Char and his infamous Zaku II mobile suit mecha, the new episode will feature Char's younger sister Sayla, the Zeon pilot Ramba Ral and his lover Hamon, and Amuro and Fraw Bow (living in the tranquil Side 7 colonies before the specter of war visits them).
The Mobile Suit Gundam: The Origin IV Eve of Destiny anime, the fourth episode in the series, opened in 15 Japanese theaters last November, and it ended the Char/Sayla arc of the anime.
The anime project adapts Yoshikazu Yasuhiko's manga of the same name, which in turn is inspired by the first Mobile Suit Gundam anime's story. Yasuhiko designed the characters in the first Gundam anime, and he serves as the chief director and storyboarder for the Gundam: The Origin anime. The manga has 10 million copies in print.
Anime Consortium Japan is releasing the Gundam: The Origin series digitally worldwide through a premium rental streaming program, and Right Stuf — in collaboration with Sunrise — is releasing the series on home video.
Thanks to Dennis R. for the embedded video.