Artgerm's Exquisite Catwoman Halloween Cover Is Full of Symbolic Easter Eggs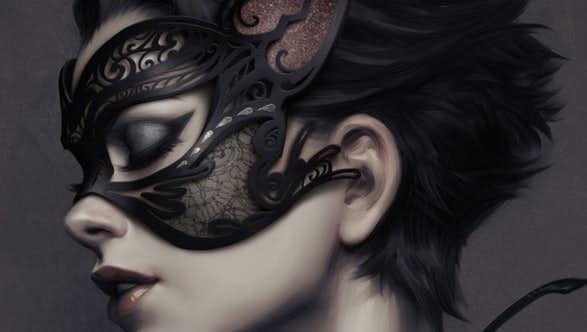 With Halloween right around the corner, DC Comics is set to release their special Halloween-themed covers to celebrate the holiday. Catwoman herself is getting in on the fun thanks to a variant cover produced by artist Stanley "Artgerm" Lau.
RELATED: Johns Describes Shazam Comic As 'If Roald Dahl Created Superheroes'
Shared yesterday on Lau's Twitter, the hauntingly beautiful image features Selina Kyle adorned in a peculiar cat mask, wearing a diamond ring around her neck and scratching her chest with the claws on her glove. Lau even included a special message for fans, informing them of several Halloween-themed Easter eggs hidden in the image and challenging them to see if they can find them all.
Here is my cover for Catwoman 4, with the theme of masquerade for Halloween month. I've placed quite a number easter eggs embedded with symbolic meanings. See if you can find them all. 😉 #catwoman #halloween #masquerade pic.twitter.com/UaBpruaisk
— Artgerm (@Artgerm) September 5, 2018
The two most prominent Easter eggs are the bat image in Catwoman's mask and the cat picture on her glove, but the others may be a bit harder to find for some viewers. Still, as the past few years have shown, DC definitely knows how to get into the Halloween spirit and bring readers along for the spooky fun.
RELATED: Super Sons Reinvents A Classic Silver Age Superman Storyline
Catwoman #4, written and penciled by Joelle Jones, with additional art by Fernando Blanco, is set to be released on Oct. 10.