Spider-Woman Joins Spider-Geddon Via Six Connecting Variant Covers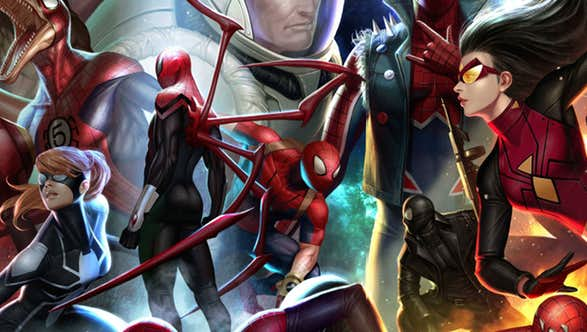 Marvel Comics has released a new connecting variant cover by artist InHyuk Lee for its upcoming Spider-Man centric event series, Spider-Geddon.
The variant cover follows in Spider-Geddon's footsteps by celebrating the multitude of Spideys that appear in the story, including fan-favorite characters like Spider-Ham, Miles Morales, Spider-Woman (Jessica Drew) and Spider-Gwen, along with the Peter Parker from PlayStation 4's upcoming Marvel's Spider-Man exclusive video game.
RELATED: Edge of Spider-Geddon Introduces An Evangelion-Like Venom
Spider-Geddon is the follow-up to 2014's Spider-Verse, bringing back Morlun and his Inheritors, as well as new villains. Marvel is promising shocking deaths and returns, leaving fans to wonder if they're favorite Spider-heroes will survive the event.
At Comic-Con International in San Diego, Marvel announced a group of Spider-Geddon spinoff miniseries that will put the spotlight on certain superheroes. Edge of Spider-Geddon will debut Uncle Ben and Norman Osborn Spider-Men, and Spider-Kid and Astro-Spider will be introduced in Spider-Force along with Ashley Barton from the Old Man Logan reality.
Aside from gathering all the Spidey's back together again, the highlight of Spider-Geddon has to be the PS4 Spider-Man making the leap to the comics in Spider-Geddon #0.
Marvel's Spider-Man releases September 7 on the PlayStation 4, with Spider-Geddon #0 hitting stands on September 26.
KEEP READING: INTERVIEW: Gage Unites the Multiverse's Web-Slingers to Prevent a Spider-Geddon