Marvel's Guardians of the Galaxy Relaunch Will Borrow an Infinity War Phrase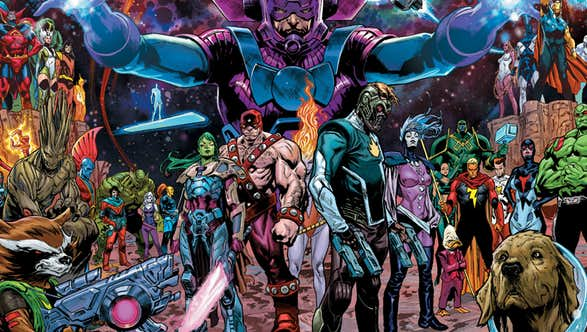 Marvel Comics has announced Guardians of the Galaxy will be relaunched by writer Donny Cates and artist Geoff Shaw in January, and the title of the first story arc will borrow a very important phrase from Avengers: Infinity War.
Cates has been tearing his way through cosmic Marvel on titles like Death of the Inhumans and Thanos. Now, he's also slated to take the reins on Guardians of the Galaxy as they try to recover from the events of the currently running Infinity Wars story.
RELATED: Marvel Comics to Relaunch Guardians of the Galaxy in 2019
"Geoff and I have some INSANE plans for our first Guardians arc," Cates told Marvel.com. "This arc is called 'Endgame,' and as seen in Thanos Legacy, it begins with the reading of Thanos's last will and testament. An artifact that Thanos's brother Eros dug out of his late brother's heart, which very well may spell doom for the entire universe."
"Endgame" is also one of the phrases Doctor Strange said during the battle on Titan in Avengers: Infinity War. After traveling through time to find a way for the heroes to win, Doctor Strange announced they've entered the endgame after Thanos leaves Titan with the Time Stone. The assorted Avengers/Guardians try (and fail) to stop Thanos from claiming the Time Stone, letting him get one step closer to completing the Infinity Gauntlet. "Endgame" is one of the many rumored titles for the upcoming Avengers 4.