DC Comics Teases Major Trauma for Dick Grayson in Nightwing #50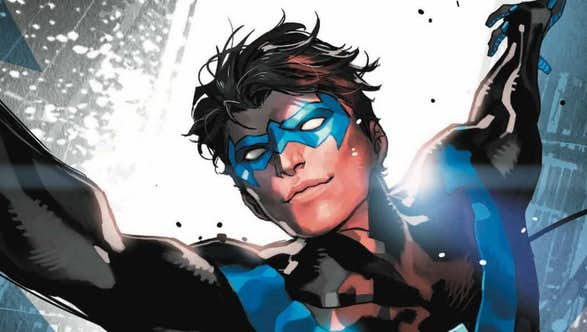 October's Nightwing #50 will kick off the "Knight Terrors" storyline, which will delve into a traumatic event in Dick Grayson's past. The four-issue arc will see Dick forced to come face-to-face with Dr. Jonathan Crane as he reminisces about a scarring time when he was at a crossroads in life. A new, traumatic injury will be the catalyst for Nightwing's ruminations.
DC Comics has teased the upcoming issue by tweeting a piece of teaser art alongside the caption, "Some scars run deeper than others." The teaser is credited to Christopher Mooneyham, one of the artists working on the issue. DC has been hinting for some time now that Nightwing will soon receive a life-changing injury. It seems that injury might be a nasty blow to the head, if the teaser is to be believed.
RELATED: Batman #54 Redefines Bruce and Dick's Relationship for the Post-Rebirth Era
Some scars run deeper than others. NIGHTWING #50, written by @Benjamin_Percy, cover by @CTMooneyham. Out 10/3: https://t.co/HXMNo9tTtQ pic.twitter.com/JlVauJyUsA
— DC (@DCComics) September 6, 2018
The full solicitation text for Nightwing #50 can be found below:
NIGHTWING #50 written by BENJAMIN PERCY art by TRAVIS MOORE and CHRISTOPHER MOONEYHAM cover by MIKE PERKINS variant cover by JONBOY MEYERS "Knight Terrors" begins here! The big issue #50 kicks off an epic four-part story that brings together critical moments of fear and doubt from the past and the present. A young Dick Grayson hopes to escape the shadow of the Bat and earn the title of Nightwing, while an older Dick Grayson must deal with a blow he did not see coming. A common enemy unites the timelines: the Scarecrow, as you've never seen him before! This story goes deep into the mythology and nightmarish development of Dr. Jonathan Crane. ON SALE 10.3.18 $4.99 US | 48 PAGES FC | RATED T