DC Reveals Full Wonder Comics Title Line-Up, Creative Teams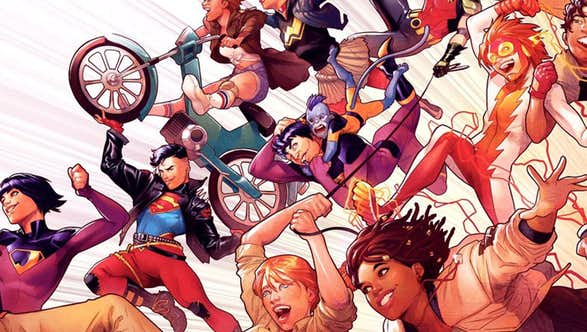 DC Comics has revealed the line-up of upcoming titles and creative teams for the first wave of Wonder Comics, the new teen-focused, in-continuity imprint curated by Action Comics writer Brian Michael Bendis.
According to the official press release from DC, Bendis revealed the information at New York Comic Con as a tease for his spotlight panel on Saturday night. Bendis himself is set to partner with artist Patrick Gleason on a Young Justice comic, which will unite Impulse (Bart Allen), Superboy (Conner Kent) and Robin (Tim Drake). Bendis also said he'd be introducing Teen Lantern as a part of the new Young Justice team's lineup. Bendis and Gleason's Young Justice, which will kick off the Wonder Comics imprint, is slated to debut early next year.
RELATED: NYCC: DC Announces Bendis-Curated Imprint, Wonder Comics
In addition to Young Justice, the first wave of offerings from Wonder Comics will consist of Naomi, Wonder Twins and Dial H For Hero. Bendis will co-write Naomi along with David Walker (Cyborg), and Jamal Campbell (Justice League of America: Vixen) will illustrate the comic. Writer Mark Russell (The Flintstones) and artist Stephen Byrne (Justice League/Power Rangers) will serve as the creative team on the new Wonder Twins comic, while writer Sam Humphries (Harley Quinn) and artist Joe Quinones (Black Canary/Zatanna) will work on Dial H For Hero.
Young Justice will debut in early 2019.
KEEP READING: NYCC: Jim Lee, Dan DiDio Address the State of the DC Universe