Grant Morrison Shares Photo With Justice League Star Ezra Miller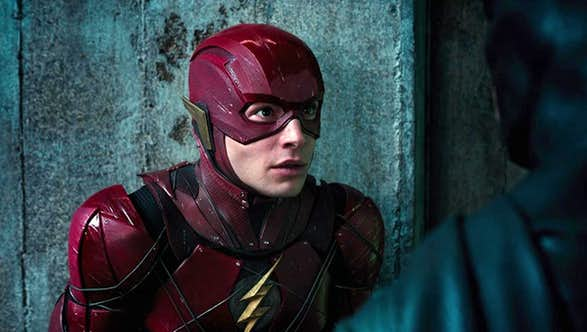 It's a literal "Flash Mob," as comics writer Grant Morrison crossed paths with Flash actor Ezra Miller in Los Angeles.
Morrison shared the photo of himself standing back to back with the Justice League star at what appears to be Cold Waves LA.
View this post on Instagram
FLASH MOB #grantmorrison #ezramiller #kingmob #theflash #coldwavesla
Morrison, who kicks off his run next month on The Green Lantern with artist Liam Sharp, is more closely associated with DC heroes Batman, Superman and the Justice League. However, he did co-write The Flash with Mark Millar, placing the then-current Flash, Wally West, in some bizarre adventures, like battling a sentient super-villain costume and rcing against an energy-based alien across the universe to save their respective worlds from cosmic gamblers.
RELATED: Grant Morrison Makes The Case For Hal Jordan as The Best Green Lantern
Miller, who will next be seen reprise his role as Credence Barebone in Fantastic Beasts: The Crimes of Grindelwald, debuted as Barry Allen in 2016's Batman v Superman: Dawn of Justice. He returned to the character for a cameo in Suicide Squad, and for an extended role in Justice League. His planned solo film, The Flash, has experienced repeated delays as it passed from director to director, and even underwent a temporary title change. It's now expected to begin filming next year, for potential release in 2020.
RELATED: Zack Snyder Shares BTS Look At First Justice League Team Image