Greg Capullo Crafts a Chilling Cover for The Batman Who Laughs #1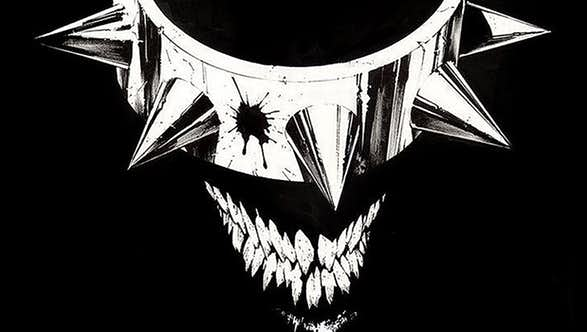 After debuting in the DC Comics crossover event Dark Knights: Metal as its principal antagonist, The Batman Who Laughs is getting his own miniseries by co-creator Scott Snyder and artist Jock this December.
With less than two months until the debut of the six-issue miniseries, co-creator Greg Capullo has shared a variant cover for the upcoming title showing the villain in his creepy glory.
RELATED: Batman Who Laughs Funko POP! Figure Is More Terrifying Than Cute
🤫😉🤘🏻✏️🤘🏻 pic.twitter.com/Tb7PN5gXiP
— Greg Capullo (@GregCapullo) October 18, 2018
The Bruce Wayne of an alternate Earth that was infected by a virulent strain of Joker toxin upon finally killing his foe, this incarnation of Batman brutally killed his allies and began to conquer the Dark Multiverse before setting his sights on Earth-1 of the DC Universe in the epic crossover.
The grinning villain was later revealed to be alive and imprisoned by Lex Luthor and the Legion of Doom in pages of Justice League #8 with the Superman nemesis turning to alternate universe Batman to help him destroy the Justice League once and for all.
RELATED: DC Reveals the Name of Batman Who Laughs' Bat-Punisher Sidekick
The solicit info from DC suggest the miniseries will see Batman of the DCU take on his evil doppelgänger in a battle for the Multiverse and, judging by Capullo's cover, it may be the Dark Knight's most chilling battle yet.
The Batman Who Laughs #1 is written by Scott Snyder and illustrated by Jock. It is scheduled to go on sale on December 12 by DC Comics.