Artgerm Debuts His First Ever Spider-Man Variant Cover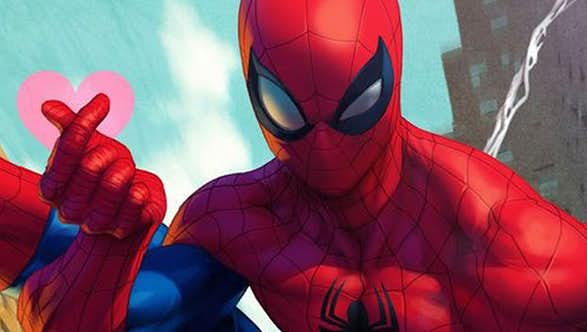 Popular digital artist Stanley "Artgerm" Lau has made his Marvel with his latest variant cover, this time providing a variant for January's Friendly Neighborhood Spider-Man relaunch.
The Singapore-based artist shared his variant cover through his Twitter account this past Friday showing Marvel's flagship character swinging through New York City with a heart-shaped snap of his fingers.
RELATED: Artgerm's Exquisite Catwoman Halloween Cover Is Full of Symbolic Easter Eggs
Here comes my first Spidey appearance! FRIENDLY NEIGHBORHOOD SPIDER-MAN #1 coming in January! #spiderman pic.twitter.com/AIrEJJl156
— Artgerm (@Artgerm) October 20, 2018
The new series was first announced at the beginning of the month with writer Tom Taylor reuniting with his artistic collaborators on All-New Wolverine, penciler Juann Cabal and colorist Nolan Woodard.
The variant cover marks Artgerm's first ever cover featuring the amazing webslinger with the artist's signature painted style. Artgerm had previously teased last week that he was working on a Spider-Man cover despite avoiding artwork of masked characters, taking particular inspiration from the recent Spider-Man video game on the PlayStation 4 though the final artwork ultimately differed from his initial teaser image.
RELATED: She-Ra: Artgerm Shares His Take on the Princess of Power's New Look
I don't usually draw fully masked characters but here I am working on an upcoming Spider-Man cover, cos I love the Spider-Man PS4 game way too much. Can't wait to reveal it! 😉 #spiderman pic.twitter.com/MkCfZ0mFKs
— Artgerm (@Artgerm) October 17, 2018
Judging by the final variant cover, Artgerm has definitely done the Marvel superhero proud.
Friendly Neighborhood Spider-Man #1 is written by Tom Taylor and illustrated by Juann Cabal. It is scheduled to go on sale this January from Marvel Comics.