Fight Club 3 Arrives in January 2019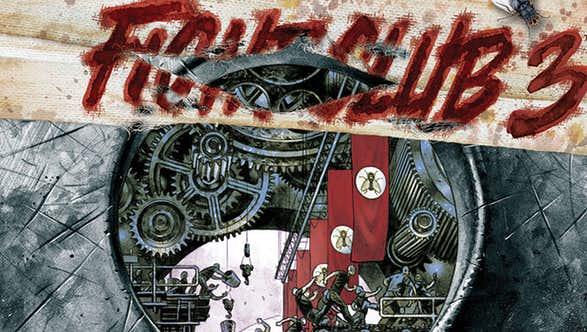 Chuck Palahniuk, author of the 1996 novel Fight Club and its 2015 comic book meta-sequel Fight Club 2: The Tranquility Gambit, is teaming up with Dark Horse Comics once again to continue Tyler Durden's story with Fight Club 3.
Joining Palahniuk in this new installment will be Eisner Award-winning artist Cameron Stewart (Fight Club 2, Hellblazer), letterer Nate Piekos of Blambot, colorist Dave McCaig (X-Men, Adam Strange) and cover artist David Mack (Jessica Jones, Daredevil).
RELATED: Palahniuk Talks "Fight Club 2" & His Conflicted Relationship with Tyler Durden
"What's the first rule of fatherhood?" is the question Fight Club 3 poses. This monthly 12-issue maxi-series will revolve around Marla Singer, who is getting ready to have her second child. However, the baby's father is not the unnamed narrator from the original novel, who now goes by Balthazar, but rather, perennial agent of chaos Tyler Durden. Naturally, Tyler is very interested in his heir.
Marla, Balthazar and their first son are not exactly in the best of ways, as they are living in a dilapidated motel in a less-than-reputable neighborhood. Moreover, the effects of Tyler's antics from Fight Club 2 are still being felt, with Project Mayhem having been transformed into the terrorist organization Rize or Die. However, when a new group sets their sights on reshaping society in their own twisted image, Balthazar is forced to join forces with Tyler.
RELATED: Palahniuk On His Adult Coloring Book & Why Reese Witherspoon Owes Him
"Fight Club 3 is about what happens when you need to team up with your enemy," Palahniuk said. "And the situation is even more complicated here, given Tyler Durden and Balthazar's unique relationship. And, yes, bodily fluids will be exchanged."
Fight Club 3 #1 will go on sale January 30, 2019. The book will feature variant covers by David Mack, Kirbi Fagan (Bait, Mockingbird) and Duncan Fegredo (Hellboy). Variants for subsequent issues will come from such notable artists as Colleen Coover, Francesco Francavilla, Steve Morris, Cameron Stewart and Eric Wilkerson.