Marvel's Hip-Hop Variant Covers To Be Used as Actual Album Art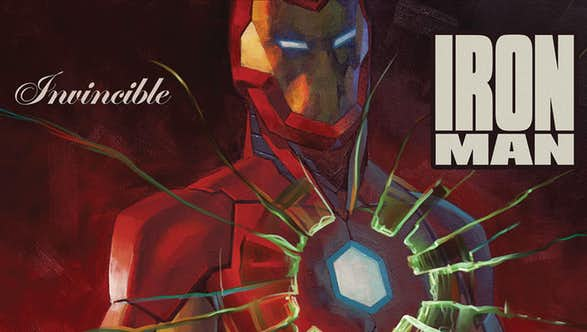 In 2015, Marvel Comics debuted their hip-hop variant covers, which featured Marvel characters in redrawn versions of classic hip-hop album artwork. These variants will now be used as actual album artwork, as Marvel teams up with Urban Legends — the urban catalog platform of Universal Music Enterprises — to release new vinyl collector's editions of the albums depicted.
"Marvel's hip-hop variant covers celebrated the music industry in a whole new way, combing the creativity of the original album art and the Marvel UNiverse to create one-of-a-kind pieces of art," Daniel Fink, Marvel Executive Director of Business Development, said in a statement. "We're excited to collaborate with UMe to bring these variants back for fans of these iconic albums."
RELATED: EXCLUSIVE: Marvel's New Hip-Hop Variants Homage 2Pac, RZA & More
The first three albums released in this series will be 50 Cent's Get Rich or Die Tryin', LL Cool J's Mama Said Knock You Out and GZA's Liquid Swords. The Marvel album artwork for Get Rich or Die Tryin' was originally Brian Stelfreeze's variant cover for The Invincible Iron Man #1 and features Iron Man taking 50 Cent's place behind broken glass. Meanwhile, the artwork for Mama Said Knock You Out comes to us from Tim Bradstreet's Punisher #1 variant and features Frank Castle recreating the LL Cool J's pose from the original album cover. Finally, Denys Cowan, Bill Sienkiewicz and Chris Sotomayor's artwork for Liquid Swords was first printed on the cover of Contest of Champions #1 and features Iron Man again, this time going toe-to-toe with Maestro.
"Marvel comics have always occupied a special place in the heart of hip-hop fans," Universal Music Enterprises President/CEO Bruce Resnikoff said. "Both media continue to serve as a source of expression, escapism and inspiration for generations of super fans around the world."
RELATED: Marvel Debuts First Rock Music-Themed Variant Covers
"There is an undeniable heroism that consistently runs through the veins of art forms," Andre Torres, Head of Urban Legends, added. "And I'm excited to help weave these iconic narratives together in a way that celebrates their art and introduces new fans to their genius."
The first three albums in this reissue series are set to be released on December 7 and are currently available for pre-order.